PRODUCTS EVALUATED
BY CONSUMERS
What is treetz ?
You become a part of a community of consumers who exclusively discover and test new products.
You automatically participate and without any conditions to all campaigns that interest you, as long as you are the fastest!
By voicing your opinion, you are rewarded and recognized by brands and buyers and you become an influential consumer.
I discover new exclusive products
EXCLUSIVE PRODUCTS
I give my opinion in all transparency
TRANSPARENT REVIEWS
I am rewarded immediately
REWARD
I become an influential consumer!
TREETZER
---
Trust
Mutual trust between consumers, brands and treetz
Credibility
The consumer has a role in the overall product satisfaction score
Transparency
All consumer opinions are treated equally
Efficiency
A simple, quick and effective solution in a single App!
1. Purchase of the product
Involvement drive to store
2. Barcode scan
Reliability and traceability
3. Loading the invoice
Invoice loading by consumers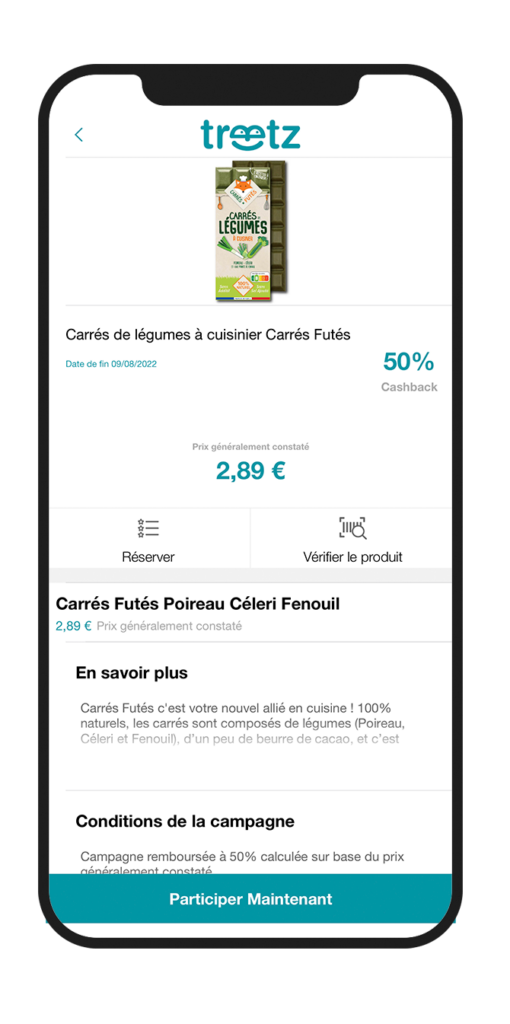 4. Product testing
Experience and evaluation
5. Survey Response
Test and response survey
6. Reward
Obtaining cash back